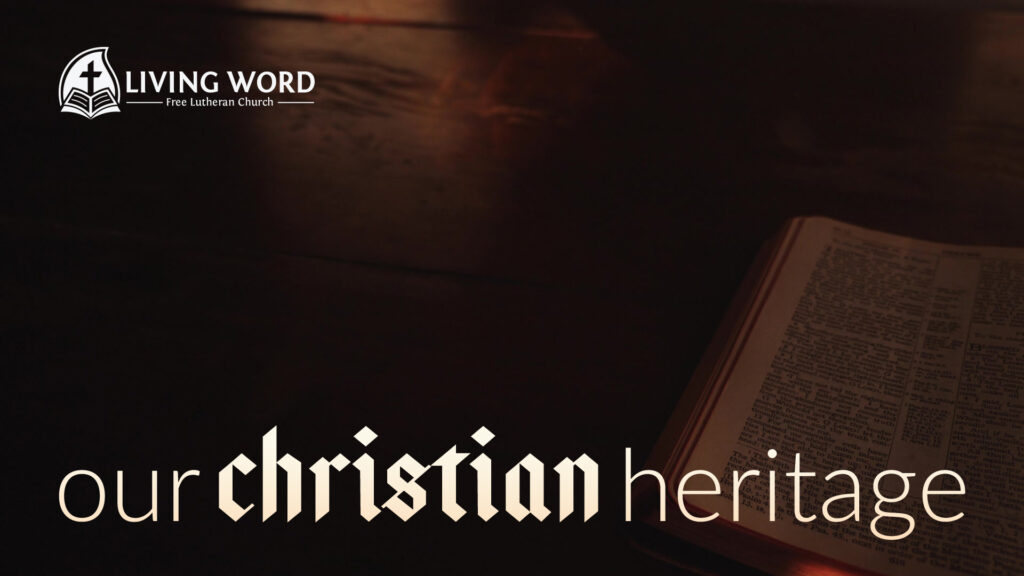 Here are some useful things to reflect on as you prepare for gathered worship at Living Word this week. We look forward to starting a new series looking at 'Our Christian Heritage' throughout this coming month. This Sunday we will focus on God's Word with a special emphasis on Psalm 119.
The service will focus heavily on the Word of God. We will sing the hymn text 'God's Word Is Our Great Heritage,' as the final verse to the well-known hymn.
A Mighty Fortress Original Melody
An interesting note on this hymn. While the familiar melody is very steady and straight, Luther did not originally write it that way. From Hymnary.org:
This tune of Luther's EIN FESTE BURG, was, like most tunes written around the time, originally scored in rhythmic form, which can be found in Psalter Hymnal 468. This rhythmic form, as described by Paul Westermeyer, was "a secure and jubilant textual dance that trips up the foe." Westermeyer goes on to describe the isometric version we're all used to as "a partisan battle cry that mistakenly turned Luther's energetic paradox (a fortress moves and fights for us) into immobile stasis" (Let the People Sing, 59). The solid and majestic rhythm we sing today definitely exemplifies the theme of "fortress," but misses this paradox as Westermeyer describes it. A fighting fortress must be agile, and, as Calvin Seerveld writes, "If we can reinstate the original rhythm and spirited lilt of Luther's stirring song, maybe we can also bestir ourselves today to hear and sing the song Luther gave us, not just in its dogmatic strength, but with the charismatic faith vitality he gave it" ("Getting into Martin Luther's Groove," reformedworship.com).

Laura De Jong – Hymnary.org
The word 'fortress' in the hymn's original language means 'a fortress that moves and fights for us.' This is more like a tank than a castle. What an image that we often miss! You can hear the original melody in the playlist below.
Sunday's Collect
This Sunday's 'Collect' (a specifically-formatted type of prayer) happens to coincide perfectly with our theme. Here is the text in the updated language we will use on Sunday:
Lord God, heavenly Father: we ask You so to guide and direct us by Your Holy Spirit, that we may not exalt ourselves, but humbly fear You, with our whole hearts hear and keep Your word, and keep the Lord's day holy, that we also may be made holy by Your word; help us first, to place our hope and confidence in Your Son, Jesus Christ,, who alone is our righteousness and Redeemer, and, then, so to amend and better our lives in accordance with Your word, that we may avoid all offenses and finally obtain eternal salvation, through Your grace in Christ, who lives and reigns with You and the Holy Spirit, one true God, world without end. Amen.

Collect for the Seventeenth Sunday after Trinity
The Lord's supper will take place this coming Sunday. We will be singing 'Prayer After Communion,' which you can find in the playlist below. I encourage you to learn it.
Listen to and learn the songs for Sunday as you prepare for worship at Living Word: